Commercial Window Cleaning Perth
Get A Free Quote
Fill out the simple free streak free form to the right for a free instant quote. Or you can call us to speak to one of our wonderful window cleaners on
08 8120 2750
Commercial Window Cleaning Perth

Are your commercial windows looking a little bit rough around the edges? Have no fear, Perth Window Cleaning WA are here.
Perth's commercial window cleaning experts.
As Perth's expert commercial window cleaners; forget streaks, forget dirt and forget grime, just like that, the windows will be clean in no time!
Perth Window Cleaning WA have all your commercial and industrial cleaning needs in the one spot. Whether it be an office building, a sporting stadium, an event or arts center, a school or church. Count on the industries top guns.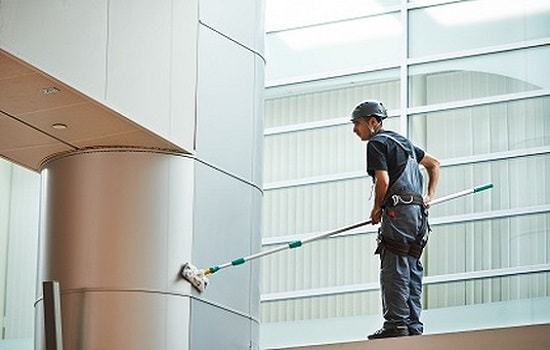 The best way to be on top of your windows.
Is the CEO making a surprise visit to the office? Or can you no longer distinguish what is actually out in view from your window?
After we have finished the maintenance man will be relieved, the CEO will be impressed, and the view with such clean clarity will be phenomenal.
You have come to the right place.
Regardless of whatever the situation may be. If commercial window cleaning is in order, ethen you have come to the very best service providers in Perth.
Cleaning both the external and internal faces of the windows to guarantee the very best finish and not leave only half a job complete.
Premier professional service.
With cleaning expertise and a constant strive for only the very best, if you are not completely satisfied we will be more than happy to clean your commercial windows again.
With efficient and professional service, you will not even notice we are there. We will be out of your way in next to no time at all, whether it be one or twenty-one stories.
Let us tailor something for you.
Commercial cleans can be quite big jobs with a lot of complexity. Well maybe to some, but not us. We have everything covered, tailoring a cleaning package that will best meet your needs.
We'll leave you with windows that are immaculate. Every pane of glass will be all clear as if they were just installed. Naturally, we also clean up after ourselves, clearing out our tools and any dirt we may have coughed up during our work.
As part of our service, the window sills and frames also get our attention.
Most of the time, we need to move things before we give the all clear to work. We'll put back any furniture that we had to move to clear the work area.
Contact us now by either filling out the form on the right to receive your instant free window cleaning quote. Or if you wish to speak to someone, you can just call one of our cleaners on 08 8120 2750